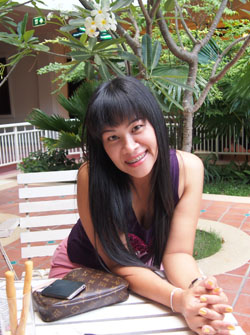 Pat Kutagapun & Steve R.

What is your inspiration to start Steve Café & Cuisine? Several times my wife and I were asked with this question. Well, it starts from me and my wife, and our love to explore good dining places every Friday night which, of course, spark a fun discussion, a critique among us. Despite the fact that operating restaurant is quite tough and competitive business, another important reason we decided to open up our own restaurant is that Khun Pat's mother, who has rich experience being a chef at Admaker restaurant for so many years, gave a very generous piece of advice for us to start up our own restaurant where she could use her expertise as a chef and stay closer to a family.

This restaurant business will also be another alternative for our youngest son who has hearing problem.  This way, he could operate his own business and have sustainable source of income. So my wife and I were looking for the right location for Steve Café & Cuisine and we found 2 very nice locations - one in Sathorn road with a very generous rental deal and this house owned by Auntie Feung, who offered us family relationship. My wife and I suddenly fell in love with this old house with lovely river view.

Why we use the name Steve Café & Cuisine? First of all, it was named after Steve, which is my nickname in English. We use quite a Western name to represents our concept of authentic Thai cuisine that can be enjoyed cross-cultural by foreigners and also the younger generation.